That's much weaker than I expected. Didn't Puru make a lot of noise how he perfectly sold at the top? What happened?
He lost a lot of money in hedging. And a few times, his hedged position miss the big move… growth stocks shot up, his short ARKK also shot up, so make nothing. In a nutshell, his hedging doesn't work in a choppy market. It works spectacularly during the Mar 20 dive, chop up and down, doesn't work.


Market is complicated and unpredictable. You make $, thought you found the right key, use the same strategy, lost big. That applies to those who make $ ytd… doesn't mean would make $$$ in the next bull run. If you can make good return (> 11% CAGR) for 20-40 years, your strategy is good.
He has zero idea how to be an active trader then. You don't do options in a range-bound or choppy market. The odds are against you. You want the 200-50-10 day moving averages aligned in ascending or descending order. I also don't get why he was hedging if he went to mostly cash as claimed. There shouldn't have been material positions that required hedging. He should have just DCA back into positions over time.
.
He is a long term investor like Cathie Woods. Identical in growth investing concepts and philosophy. The only difference is he learnt from somewhere that long term investors also need to hedge whereas Cathie didn't hedge. Ofc, different choice of stocks.
He went fully cash after he lost a lot in hedging. If I have read correctly, he is fully invested now.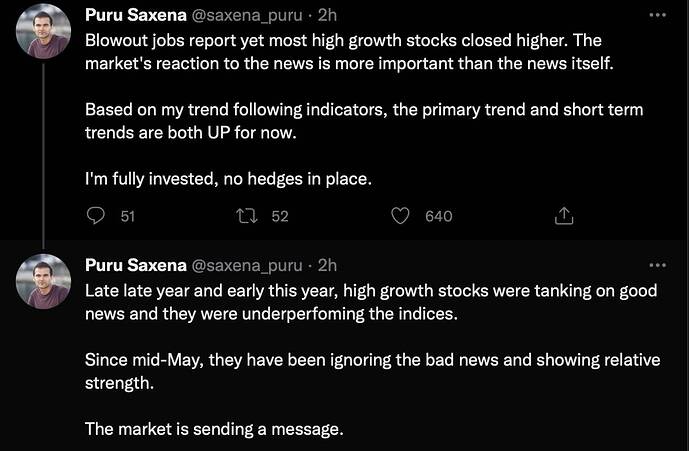 Confirmed. Fully invested.
Market is sending the message is time for rock n roll. But why are there so much bearish sentiments in social media and by WS commentators?
Market goes up and down on its own, Media provides running commentary with attractive or sensational story for markets action.