Is Santa Claus rally still coming? Or is it Covid crash time again?
Doing nothing is no work and highly profitable. Ytd should be higher than Beth's I/O fund, Puru's hyper growth portfolio and Cathie's disruptive tech portfolio, and ofc S&P and Nasdaq.
168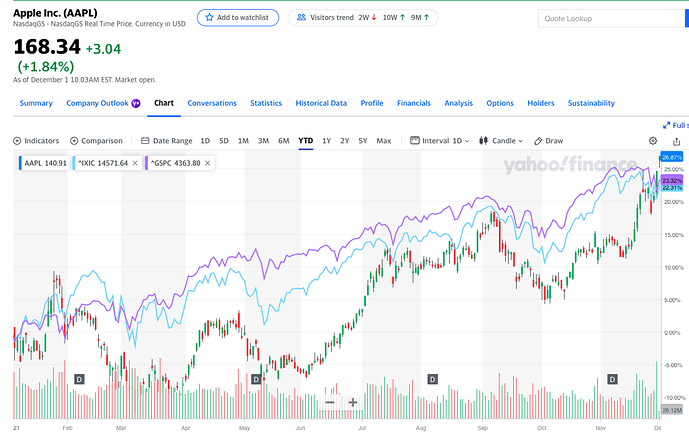 Mr Market is slaughtering all except AAPL MSFT GOOG. EV stocks are also hyper growth stocks, nice name for ROI i.e. no earning stocks. Market is not insane now, it has awakened… was insane, how can no earning stocks be worth $100+B? Crypto is well… no revenue generation…
Nutshell: Mr Market is parking his money in cash rich outstanding income generating stocks.
I sold a ton an hour or two ago in both stocks and crypto. Not looking good for now…I'm fearful of a huge dump. I'll buy back if things strengthen overnight though. I did buy some puts though.
Fintwit is a mad house. Everybody is dumping their entire holdings!
FGI is at 26, still so high. I recall Feb 2020 was less than 5, correct?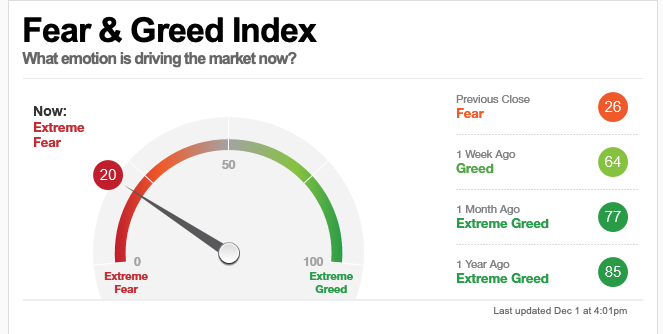 They are greedy when others are greedy. Fearful when others are fearful.
Still in 60% cash. Didn't sell any shares nor do any shorting/ hedging. The problem with me is if I sold all the shares, I would end up watching TV serials and miss the bottom

like in Feb 2020. So price to pay is to just ride them down… painful but necessary… and hopefully load all 60% cash in at the bottom

If I can do that the pain is worth it.
All those fin twitters + similar group are all running out of the burning house. Their stocks are like Puru's, hyper growth (aka no earning) stocks… will be decimated by tapering and rising interest rate.
Btw, I am monitoring NVDA… wondering how come is still now DOWN BIG. NET has started but still didn't dive. I am patient.
Thanks. Looks like you were reading my mind. This is what I was going to ask both you @hanera and @pastora . How do you guys position yourself to quickly get in and out. For me it takes weeks to build a position and then to close it. By the time I done with , the market turns in different direction. Any tips and ideas ? How to be agile?
.
I also take weeks. I am as slow as you. I think you didn't read all my posts when I started raising cash. I take the cue from Puru… he gave a very frank and good explanation of the possibilities because of the macro situations. I didn't follow his stocks but I follow his macro views. I sold all non- metaverse stocks and cut holdings of meta verse stocks to 1/3 planned size. This is the summary of what I did for the past few weeks for your consumption, please.
Btw, Puru view is: there won't be a bear market, only correction, 10-20% down from peak and he is referring to S&P index. The reason is Powell would jump in to reverse the situation i.e. start printing press again. So Panda's view of a bear market won't happen. This is also one of the reason why I still holding shares and only 60% cash.
I've learnt to keep some hedges in my portfolios. Small amounts of puts I keep rolling over. So that I am not looking at all red in weeks like this

. Now I hold SPY and QQQ puts for feb.
Many of the RSI are at extreme oversold level.
NET: 37
ROKU: 20
ZM: 25
TWLO: 30
Finally IWO Russell 2000 Growth ETF: 25. You have to go all the way back to the deepest low of Mar 2020 to get a RSI that low.
Remember the saying,
You lose more money selling mega winners than sitting on losers.
Which are the potential mega winners sold off today? SNOW?
You should practice more of what you are preaching: do nothing.
I keep a log of F&G levels. We got ahead of ourselves by being extremely greedy in early Nov. See how fast the F&G has plummeted:
| Date | F&G | Desription |
| --- | --- | --- |
| 11/1/21 | 77 | Ex Greed |
| 11/2/21 | 78 | Ex Greed |
| 11/3/21 | 82 | Ex Greed |
| 11/4/21 | 82 | Ex Greed |
| 11/5/21 | 85 | Ex Greed |
| 11/8/21 | 86 | Ex Greed |
| 11/9/21 | 86 | Ex Greed |
| 11/10/21 | 82 | Ex Greed |
| 11/11/21 | 81 | Ex Greed |
| 11/12/21 | 83 | Ex Greed |
| 11/15/21 | 82 | Ex Greed |
| 11/16/21 | 81 | Ex Greed |
| 11/17/21 | 79 | Ex Greed |
| 11/18/21 | 75 | Ex Greed |
| 11/19/21 | 70 | Greed |
| 11/22/21 | 62 | Greed |
| 11/23/21 | 60 | Greed |
| 11/24/21 | 62 | Greed |
| 11/26/21 | 35 | Fear |
| 11/29/21 | 42 | Fear |
| 11/30/21 | 27 | Fear |
| 12/1/21 | 19 | Ex Fear |
.
Since you are so wise, which stocks that are sold off recently, are potential 100 baggers (potential AAPL or AMZN would be even better)?
CRWD? OKTA? ABNB?
I don't offer financial advices. Just here to blow some water.